Together we Think, Create and Achieve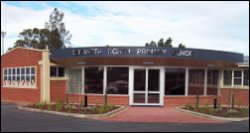 At Elizabeth North Primary School our Site Improvement Plan priorities are Literacy and Numeracy.
Our values are: Equity, Respect, Cooperation, Trust and Achievement.

We hope that your association with Elizabeth North Primary School is a rewarding and enjoyable one.  At Elizabeth North we strive to cater for the needs of individual children, so your interest and help is most welcome and very much appreciated.  It is our task to support you in helping your child's educational growth. Therefore, we invite and encourage you to become involved in the school community to achieve this outcome.
Elizabeth North Primary School is a locally managed school which means that it is led by the Principal and the Governing Council.  Together they manage the day-to-day concerns of the school, without having to consult various departments for approval.
Our budget includes all the expenses of the day-to-day running of the school, so we can manage our budget in such a way that the needs of our students are met in the best way possible.  Therefore, we encourage you to share in improving learning outcomes for the students in our care. 
Your support of the school's policies is crucial to the successful running of the school and to ensure the best outcomes for your children.
You are welcome to visit at any time, but making an appointment to discuss concerns or suggestions is appreciated.
Graham Wood
Principal